ESP32-POE - WiFi/BLE/Ethernet development board by Olimex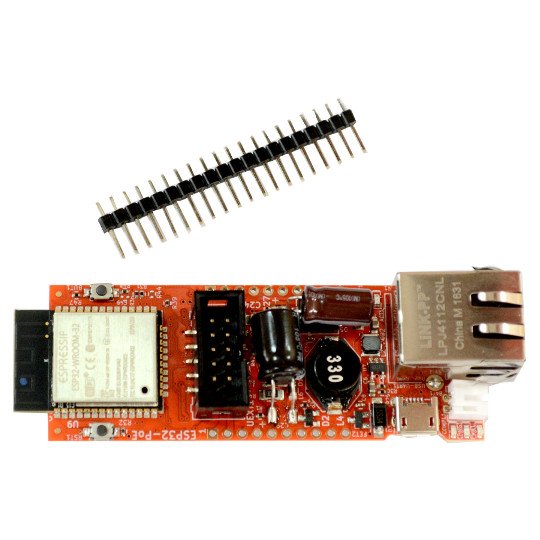 The
Olimex
company released a new development board called
ESP32-PoE
. It's other development board with popular WiFi/BLE IC ESP32. Olimex offers more development boards with ESP32,
ESP32-PRO
and
Olimex ESP32-EVB
.
This board moreover supports
PoE (Power over Ethernet, IEEE 802.3) and 100mbps interface
.
The interface of board is WiFi, Bluetooth Low Energy and 100mbps ethernet (with PoE).
The support of PoE is based on Si3402-B IC (
datasheet
) by Silcon Labs.
Important notice is the board has no galvano isolation from Ethernet power supply.
So if you want to upload your code to ESP32, you have to unplug the ethernet connector.
The board also includes UEXT connector. Olimex offers a few board which can be connected to board via UEXT connector. E.g.
IR transmitter
,
RS485 interface
,
BME280 (sensor of temperature/humidity/pressure)
,
RFID card reader
and also
2.8" colored LCD
.
You can use charger IC for LiPol battery, buttons (reset, user), microUSB for programming of ESP32 and microSD card slot.
Link to olimex store: https://www.olimex.com/Products/IoT/ESP32/ESP32-POE/open-source-hardware

Oroginal news and list of supported UEXT boards: https://olimex.wordpress.com/2018/09/06/esp32-poe-open-source-hardware-iot-development-board-with-wifi-ble-100mb-ethernet-with-802-3-poe-is-in-stock/