Orange Pi 3 Plus is comming - Allwinner H6, Gigabit interface, USB 3.0, WiFi 2.4/5 GHz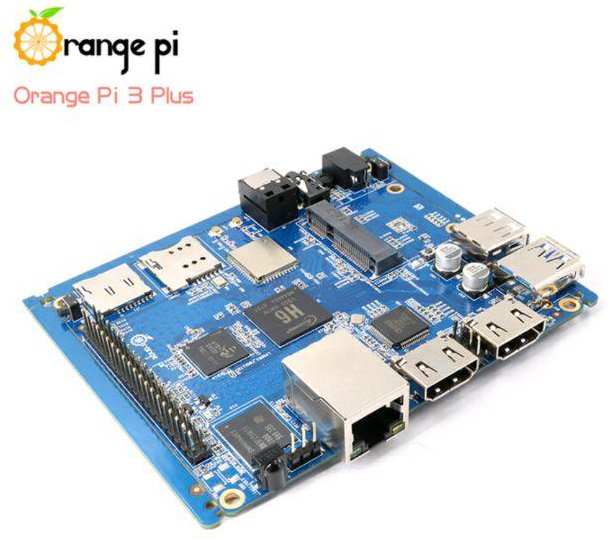 Armbian
tweeted a picture of
Orange Pi 3 Plus
.
The board is not oficially at store. That's sample board for developers.
What we see on board. The
Orange Pi 3 Plus
contains Allwinner H6 processor. The Allwinner H6 is the new generation of processor, it supports 4K video, USB3.0 and PCIe.
Allwinner H6:
Quad-core ARM Cortex A53
GPU 3D Mali-T720 (OpenGL ES3.1/3.0/2.0/1.1, OpenCL 1.1,...)
supports DDR4, DDR3 and DDR3L RAM
contains eMMC 5.0 flash interface, 1x NAND flash interface for MLC, SCL and TLC flash memory, 1x SPI NOR and 1x SD card 2.0
Video decoder supports H265/HEVC, 4K@60fps, up to 6Kx4K@30fps
Other interfaces are
1 Gbit ethernet
MAC and
10/100Mbit ethernet with PHY
. 1x
USB 3.0
, 1x USB 2.0 OTG, 1x USB 2.0 host, 1x SDIO 3.0
More info about H6 processor find here
https://www.cnx-software.com/2017/04/01/allwinner-h6-processor-for-4k-hdr-set-top-boxes-supports-usb-3-0-pcie-and-smart-card-interfaces/
The board contains
AP6356
module 2x2 WiFi and Bluetooth 4.1.
Wireless module supports 2.4GHz and 5GHz, IEEE 802.11 a/b/g/n/ac.
There are also two slots - microSD, and SIM card.
eMMC memory is on board.
Armbian thread about Orange Pi 3 Plus in available on https://forum.armbian.com/index.php?/topic/5226-orange-pi-3-plus/