GNSS module by STMicroelectronics - GPS, Galileo, GLONASS and BeiDou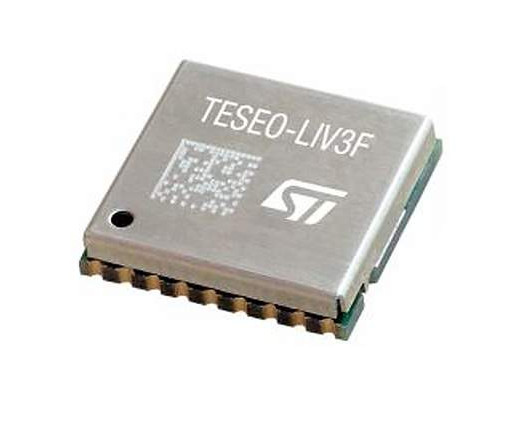 STMicroelectronics
offers the first
GNSS modul
(Global Navigation Satellite System) called
Teseo-LIV3F
.
The module could be interesting for your project beacuse it contains a few useful features.
The GNSS module supports
GPS, Galileo, GLONASS, QZSS and also BeiDou
.
The dimension of module is
9.7 x 10.1 mm
and the communication interface is standard
UART and I2C
(100/400KHz).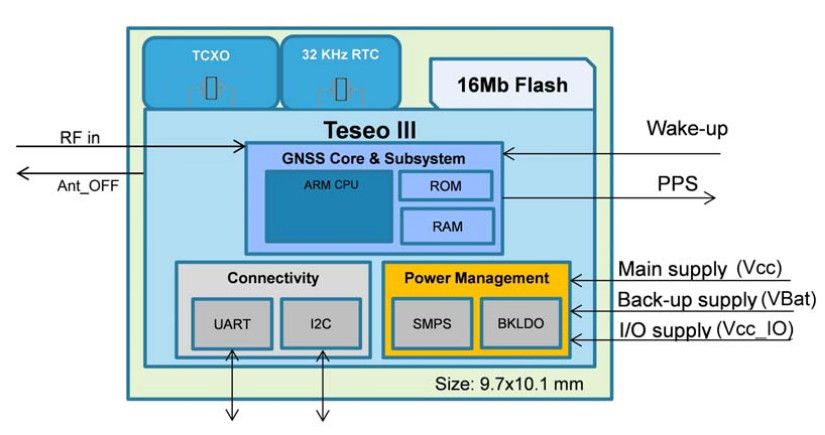 The
Teseo-LIV3F
module contains temperatured-compensated 26 MHz oscillator for higher quality data receipt.
Except of this feature you can use real-time clock (RTC).
The I2C address is configurable through "firmware configurator" (PC Tool Teseo-Suite Light). The The firmware of module can be easily updated.
The power consumption of GNSS module can be affected by two standby modes - software and hardware standby.
When you use hardware standby mode, the consumption is wonderful
6 uA
, if you use software standby mode you achieve the power consumption only
12 uA
.
The module also contains "
data logging
" feaure.

The position data can be saved up 12 hours with 1 Hz and you can use standard or circular buffer.
Teseo-LIV3F
contains odometer, the measurement of distance.
Specification
Power voltage: 2,1 až 4,3 V
Power consumption: 72 mW (GPS, VCC = 2,1V) or 90 mW (GPS and Glonass, VCC = 2,1V)
Maximal velocity: 515 m/s
Maximal altitude: 18 000 m
Hot start: max 2,5 s
Cold start: max 36 s
Warm start: max 29 s
The price of module is 15 USD and it's available on digikey.com.
Datasheet: https://www.st.com/resource/en/datasheet/teseo-liv3f.pdf

Other info: https://www.st.com/content/st_com/en/products/positioning/gnss-modules/teseo-liv3f.html