NanoPi M4 - single-board computer with USB C, WiFi a/b/g/n/ac, BT4.1, USB 3.0
Are you waiting for a new single-board computer with powerful
RK3399
processor by Rockchip?? The RK3399 with support of USB 3.0 is now included a new single-board computer by
FriendlyELEC
-
NanoPi M4
from 65 USD.
You can buy a few SBCs which have RK3399. E.g.
Odroid N1
,
OrangePi RK3399
or
Firefly RK3399
.
The NanoPi M4 is not the first board with RK3399. The first is
NanoPC-T4
for 109 USD (August of 2018).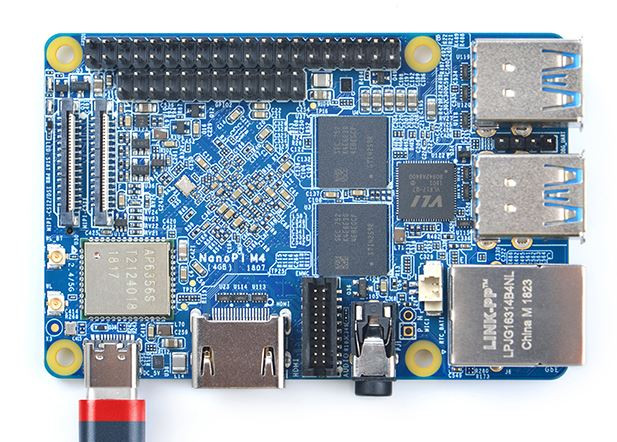 What is interesting on NanoPi M4? Lower price compare with competitors - 65 USD for 2GB RAM - and the dimension of NanoPi M4 board is the same like RaspberryPi 3.
Between the major parts of board belong
RK3399
processor (Dual-Core Cortex-A72 @2.0GHz, Quad-Core Cortex-A53 @1.5GHz, Mali-T864 GPU), 2 GB DDR3-1866 or 4 GB LPDDR3-1866, socket for eMMC memory, native
gigabit ethernet
,
WiFi 802.11a/b/g/n/ac, Bluetooth 4.1
,
4x USB 3.0 Type A
,
USB Type-C (USB 2.0 a OTG)
, slot for microSD card, 40 pin header and also 24 pin header.
FriendlyELEC offers a few supported OS: FriendlyDesktop 18.04 (Ubuntu Desktop 18.04 64-bit), FriendlyCore 18.04 (Ubuntu Core 18.04 64-bit), Android 7.1 (eMMC module is needed, 8 GB for 9.90 USD) and Lubuntu 16.04 32-bit.
Hardware specification is below:
SoC: Rockchip RK3399
CPU: big.LITTLE?Dual-Core Cortex-A72(up to 2.0GHz) + Quad-Core Cortex-A53(up to 1.5GHz)
GPU: Mali-T864 GPU?supports OpenGL ES1.1/2.0/3.0/3.1, OpenVG1.1, OpenCL, DX11, and AFBC
VPU: 4K VP9 and 4K 10bits H265/H264 60fps decoding, Dual VOP, etc
PMU: RK808-D PMIC, cooperated with independent DC/DC, enabling DVFS, solfware power-down, RTC wake-up, system sleep mode
RAM: Dual-Channel 4GB LPDDR3-1866, or Dual-Channel 2GB DDR3-1866
Flash: no Onboard eMMC, but has a eMMC socket
Ethernet: Native Gigabit Ethernet
Wi-Fi/BT: 802.11a/b/g/n/ac, Bluetooth 4.1, Wi-Fi and Bluetooth combo module, dual antenna interface
Video Input: one or two 4-Lane MIPI-CSI, dual ISP, up to 13MPix/s?supports simultaneous input of dual camera data
Video output
HDMI: HDMI 2.0a, supports 4K@60Hz?HDCP 1.4/2.2
one 4-Lane MIPI-DSI
Audio Out: 3.5mm Dual channel headphone jack, or HDMI
Audio In: one microphone input interface
USB 3.0: four USB 3.0 Type-A ports
USB Type-C: Supports USB2.0 OTG and Power input
microSD Slot x 1
40Pin GPIO Extension ports:
3 X 3V/1.8V I2C, up to 1 x 3V UART, 1 X 3V SPI, 1 x SPDIF_TX, up to 8 x 3V GPIOs
1 x 1.8V 8 channels I2S
24Pin Extension ports:
2 independent native USB 2.0 Host
PCIe x2
PWM x1, PowerKey
Debug: one Debug UART, 4 Pin 2.54mm header, 3V level, 1500000bps
LED: 1 x power LED and 1 x GPIO Controlled LED
RTC Battery: 2 Pin 1.27/1.25mm RTC battery input connector
Power supply: DC 5V/3A
PCB: 8 Layer, 85 mm x 56 mm
Ambient Operating Temperature: 0? to 80?
The price is
65 USD with 2 GB RAM
, or 4 GB RAM for 95 USD.
Link to store: https://www.friendlyarm.com/index.php?route=product/product&product_id=234
Wiki: http://wiki.friendlyarm.com/wiki/index.php/NanoPi_M4