BPI-Webduino:bit - Micro:Bit by SinoVoip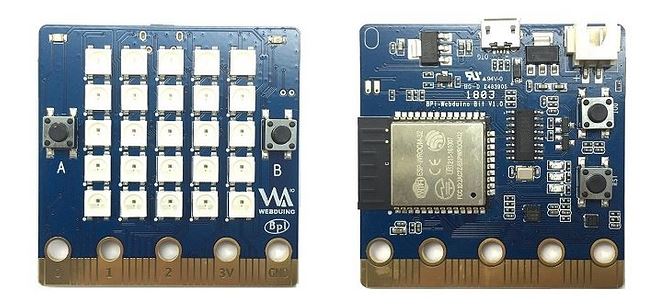 SinoVoip released a few pictures and specs of the new board called
BPI-Webduino:bit
. This board is pin compatible with
Micro:Bit by BBC
. The BPI-Webduino:bit is the new member of the
Webduino family
.
Webduino
is the platform which is focused on the popular way how to show electronics to children. You can "program" it using
Blockly
. Blockly is graphic editor where graphic icons mean e.g. conditions from C language. You can make the code on the
webduino
website whence you can upload the code to your webduino device.
Back to
BPI-Webduino:bit
. The main component of board is WiFi and BT module with
ESP32
.
You can also use
two light sensors
,
digital compass
,
3-axis digital accelerometer
,
temperature sensor
,
matrix of 5x5 RGB LEDs
,
two programable buttons
, microUSB connector with USB-UART converter and
two pins battery connector
.
Th size of board is 50 x 50 mm.
You can buy the board for 19.50 USD + 6.85 USD for shipping (in my case).
https://www.aliexpress.com/item/BPI-bit-Webduino-and-arduino-board-with-EPS32-for-STEAM-education/32861694375.html