UPDATED: SinoVoip in automotive? Released BananaPi-T3
SinoVoip
company released a few pictures of
BananaPi-T3 (BPI-T3)
. It should be designed for automotive application. Maybe infotainment (?).
UPDATE: BananaPi-T3
will not be on stock for hobby makers. T3 will be only customized for customer.
We can see a few info from pictures which are below. The processor is
Allwinner T3
(quad-core Cortex-A7, and
Mali400 MP2
GPU).
Procesor T3 contains
- 4-lane MIPI DSI displays, or RGB panel, or LVDS panel.
- 4-channel TV-out
- Dual CMOS sensor parallel interfaces
- 4-channel TV-in
- H.264 video encoder is up to 1080p@45fps
a periferie jako
- USB x 3/SATA x 1
- UART x 8/SPIding x 4/Smart Card x 1/TS x 2/TWI x 5
- MAC x 2/PS2 x 2/KEYPAD x 1(8 row 8 column)/IR-RX x 2/KEYADCx 2/RTP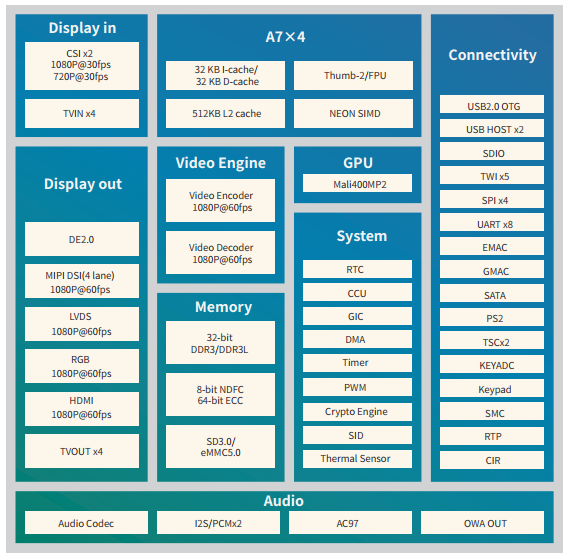 Next, there are 2x 512 MB DDR3 RAM (maybe amount of RAM could be increased), WiFi 802.11. b/g/n, BT 4.0, FM module AP6212 by AMPAK and module for receiving of GPS L7Z-1216 by LinkLab company.
The storage is eMMC on board - 8 GB.
Price and further info are not available now.
http://forum.banana-pi.org/t/bpi-t3-car-design-bpi-team-the-first-core-board/3331