Marvell ESPRESSOBin - gigabit ethernet, USB3.0, SATA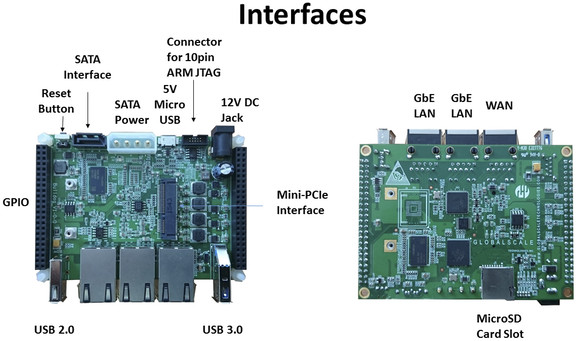 A lot of single-board computers have 64bit core, 1GB RAM, pin header with Raspberry Pi pinout etc, but I'm missing features like SATA and another. Globalscale Technologies made a new SBC with
SATA
bus. And more, also added
USB3.0
and
Gigabit ethernet
for $39.
Specification:
- SoC ? Marvell Armada 3700LP (88F3720) 64bit dual core ARM Cortex A53 processor up to 1.2GHz
- System Memory ?
512MB DDR3 or optional 1GB DDR3
- Storage ?
1x SATA interface
, 1x micro SD card slot with footprint for an optional 4GB EMMC
- Network Connectivity
- 1x Topaz Networking Switch
-
2x GbE Ethernet LAN
- 1x Ethernet WAN
- 1x MiniPCIe slot for Wireless/BLE periphereals
-
USB ? 1x USB 3.0, 1x USB 2.0, 1x micro USB port
- Expansion ? 2x 46-pin GPIO headers for accessories and shields with I2C, GPIOs, PWM, UART, SPI, MMC, etc?
- Misc ? Reset button, JTAG interface
- Power Supply ? 12V DC jack or 5V via micro USB port
- Power Consumption ? Less than 1W thermal dissipation at 1 GHz
Next plans are interesting. The board supports Linux & U-Boot and the company prepares
Ubuntu, ArchLinux ARM, Debian or OpenWrt
.
The disadvantage of these SBC is support. HW side is interesting for a lot of people and I hope that the SW support will be useful.
Marvell ESPRESSOBin can work like
IoT gateway
,
video camera monitor
and in more another projects.
http://www.cnx-software.com/2016/09/23/marvell-espressobin-board-with-gigabit-ethernet-sata-pcie-and-usb-3-0-to-launch-for-39-and-up-crowdfunding