Photogallery: STM32L496 Discovery board
STMicroelectronics released a new microcontroller
STM32L496
which belongs to
STM32L4 family
.
via
http://mikrozone.sk
Discovery board also contains STMod+ and PMOD connectors.
The new component is
STMod+ connector
.
It is expanded connector for connecting of board to breadboard. You can connect very popular WiFi module
ESP8266
to STM32L496.
Schematic:
On the other side you find
PMOD connector
(peripheral module).
It's connector for connecting a lot of modules like LCD, network adapters or analog and digital converters.
The Eshop with these modules you find for example here
http://store.digilentinc.com/pmod-modules/
Another info about that you find here
https://community.st.com/thread/34763-stmod-connector
Features of STM32L496
-A RM® 32-bit Cortex®-M4 CPU, FPU+DSP, MPU, ART Accelerator™, up to 80 MHz
- Up to 1 MB Flash (2 banks), 320kB SRAM (of which 64kB with HW parity check)
- External memory interface - SRAM, PSRAM, NOR and NAND memories
- Dual-flash Quad SPI memory interface
- 8- to 14-bit camera interface up to 32 MHz (black&white) or 10 MHz (color)
- LCD 8 × 40 or 4 × 44 with step-up converter
- 16 timers, RTC, 4-48MHz and 32kHz crystal oscillator, internal 16MHz RC (±1%), Internal low- power 32 kHz RC (±5%)
- Internal multispeed 100 kHz to 48 MHz oscillator auto-trimmed to 32kHz crystal oscillator -
(better than ±0.25 % accuracy)
- 3 PLLs for system clock, USB, audio, ADC
- Up to 24 capacitive sensing channels: support touchkey, linear and rotary touch sensors
- 4x digital filters for sigma delta modulator
- 3 × 12-bit ADC 5 Msps, (up to 16-bit with hardware oversampling)
- 2 x 12-bit DAC, 2x opamp with PGA, 2x ultra-low- power comparators
- USB OTG 2.0 full-speed, LPM and BCD
-2 x SAIs (serial audio interface)
-4 x I2C FM+(1 Mbit/s), SMBus/PMBus
-5 x U(S)ARTs (ISO 7816, LIN, IrDA, modem)
-1 x Low- power UART
-3 x SPIs
-2x CAN (2.0B Active) and SDMMC
-SWPMI single wire protocol master I/F
-IRTIM (Infrared interface)
-True random number generator, CRC calculation unit
-1.71 V to 3.6 V, -40 °C to 85/105/125 °C
-25 nA Shutdown mode (5 wakeup pins), 320 nA VBAT mode: (RTC + 32x32-bit backup registers)
-91 ?A/MHz run mode (LDO Mode), 37?A/MHz run mode (@3.3 V SMPS Mode)
On the board you find 1.54 inch 240 x 240 pixel-TFT color LCD, Stereo digital MEMS microphones, microSD™ card connector, Camera 8 bit-connector, 8 Mbit-PSRAM, 64 Mbit-Quad-SPI Flash, Reset push button and 4 direction-joystick with selection.
About STM32L496 discovery board
http://www.st.com/content/st_com/en/products/evaluation-tools/product-evaluation-tools/mcu-eval-tools/stm32-mcu-eval-tools/stm32-mcu-discovery-kits/32l496gdiscovery.html
Photogallery: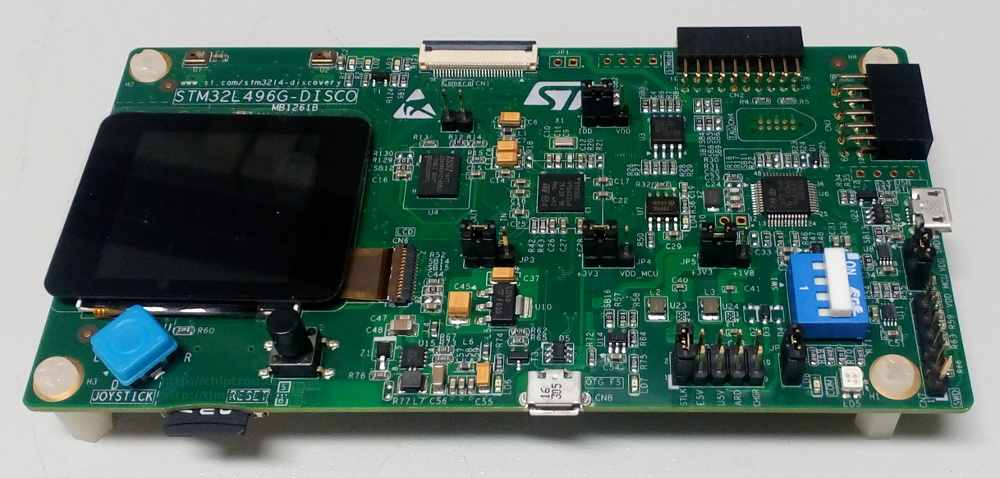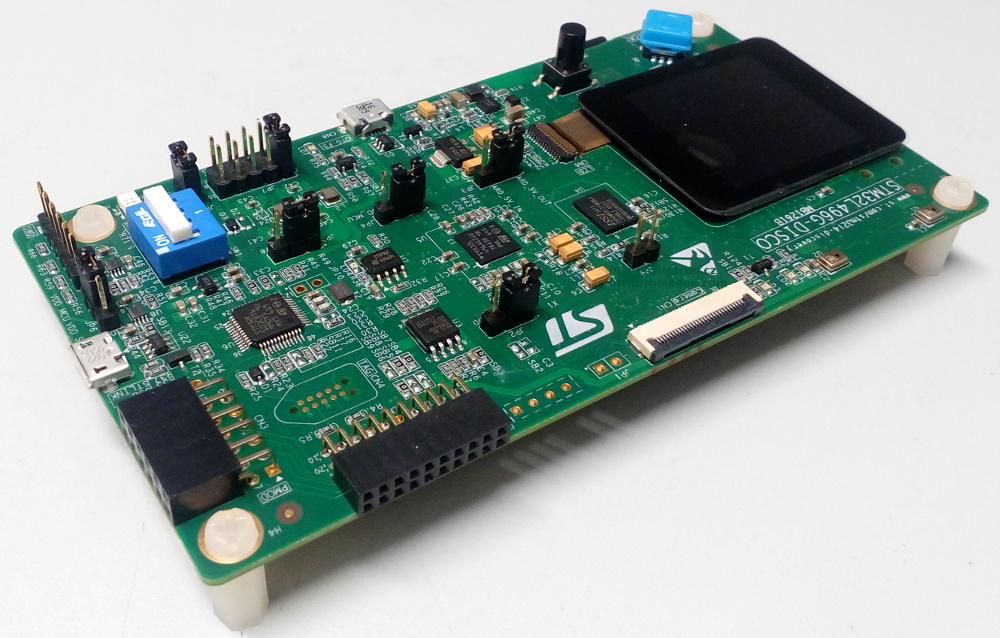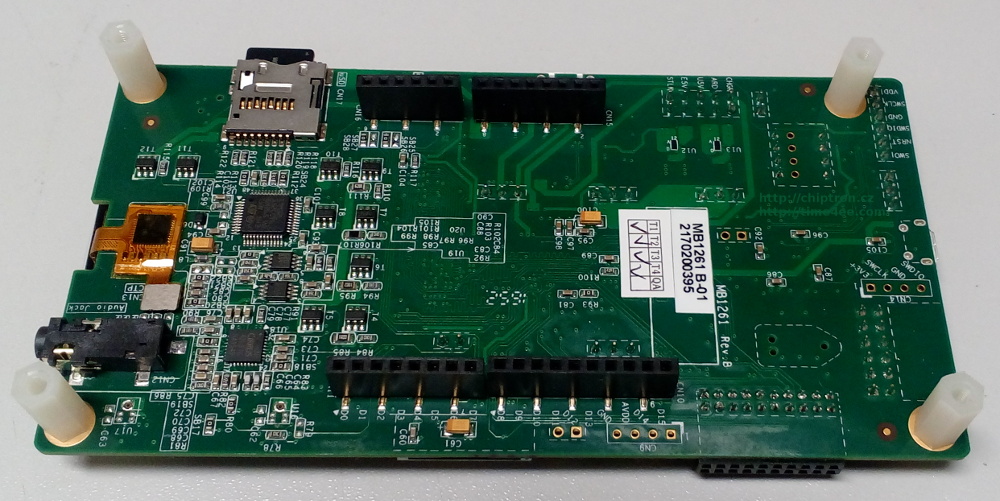 STM32L496 discovery board contains demo code which measures own power consumption.