How to easily mount an enclosure on a pole?
Canadian manufacturer Hammond offers a complete solution. With the Pole Mount Kit PMB it goes fast, reliably and securely to any pole.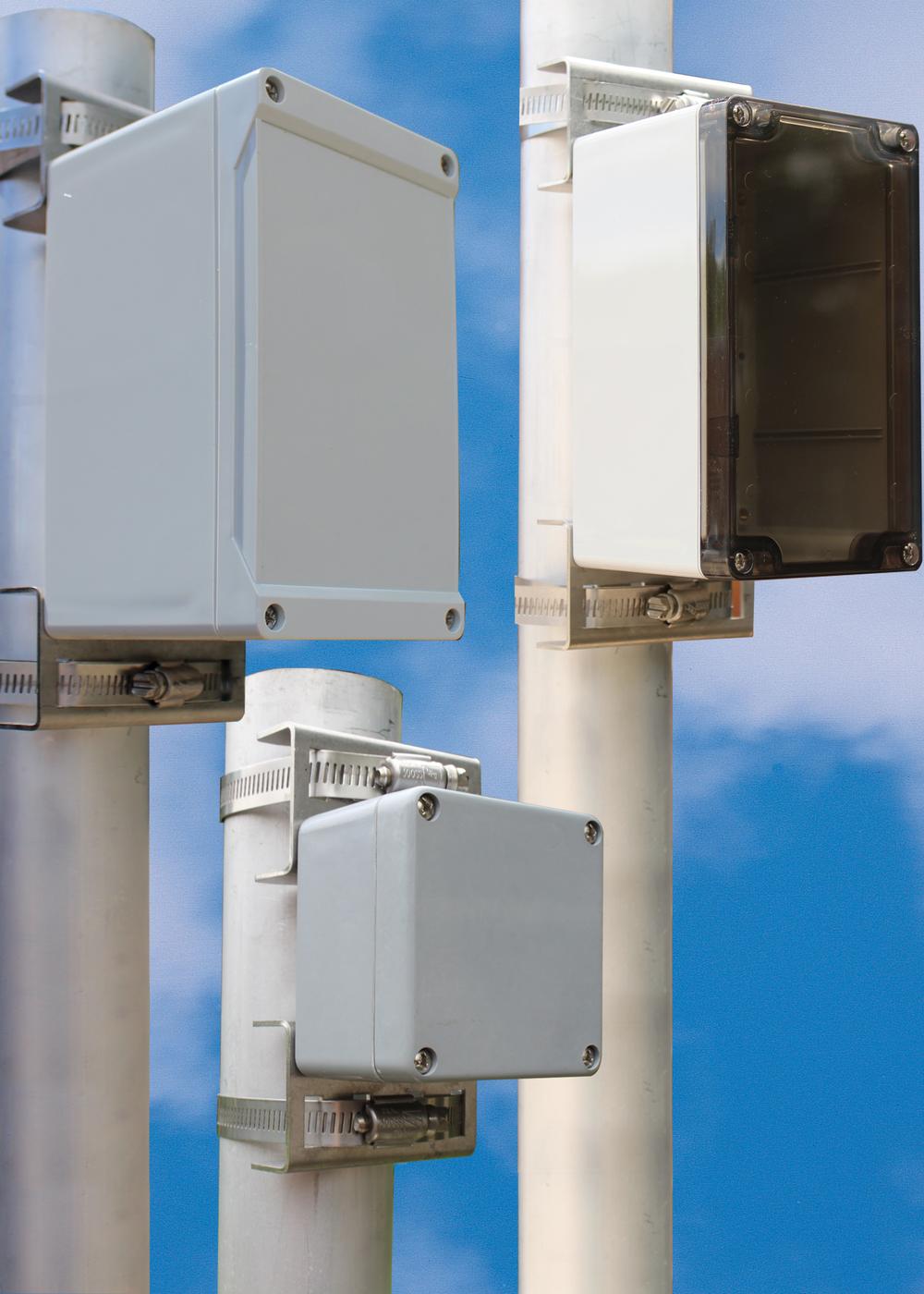 Measuring, signalisation, control ? these are the typical examples of applications where a bigger or smaller enclosure needs to be mounted on a pole. (or other usually vertical rod).
As we know, to mount a common right-angle enclosure on a round pole is not quite trivial thing, especially when we also want to secure it against twisting. It?s not that easy even in case of a square-shaped pole as it is usually narrower than mounting opening of enclosures. And you can?t afford to drill new holes to the bottom of the enclosure to maintain its IP rating. Perhaps the last factor, which can possibly complicate mounting is the fact that it?s usually also not possible (or desirable) to drill into a given pole.
Company Hammond newly offers an elegant solution, so-called
?Pole kit? of the PMB
series. It is a set, which may recall you of a typical way of antenna mounting.
Its main elements are 2 brackets, 2 strap clamps and screws/nuts ? all from a stainless steel. Together 5 sizes are available (for various enclosure sizes), enabling to mount enclosure to poles with diameter of 38 to 178mm/ 381 mm (Kit1/Kit2). All together 10 versions.
That?s a quite wide range, which will probably cover majority of needs in a praxis. Shape of the bracket enables to mount enclosure to a round but also square-shaped pole.
Hammond Pole kit is intended for Hammond enclosures series
1554
/
1555 IP 65
(ABS and polycarbonate) and
1590Z
/
1590ZGRP
(heavy duty aluminium or GRP). The PMB data sheet will help you choose the right type.
Selected kits sizes will be soon in our stock. Other sizes can be provided upon request in a short lead-time and at favourable conditions.
If you are interested in other
HAMMOND
products, or you need more information, please contact us at
sales@soselectronic.com
Advantages/Features
- set for a reliable and fast mounting of enclosures to a pole (round or square-shaped)
- for poles of a 38-178mm/ 381mm diameter (Kit1/Kit2)
- all stainless steel construction including clamps and hardware
- suitable for Hammond 1554/1555/1590Z/1590ZGRP series enclosures